March 7 - 8 2009: Hans Feyerabend at the Gasparilla Festival of the Arts
Feyerabend's "49 portraits" were chosen for the 2009 festival poster, for more information about the Gasparilla Festival and poster go to
gasparilla-arts.com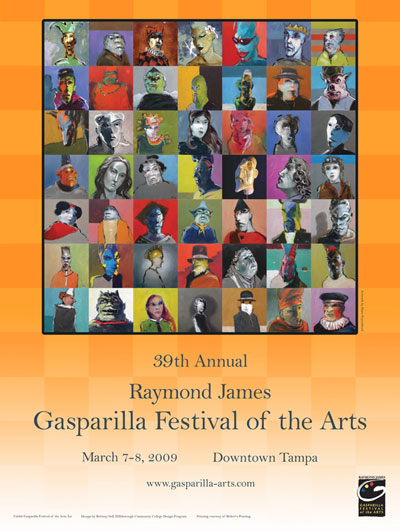 Gasparilla Festival of the Arts in downtown Tampa - Celebrating it's 39th anniversary in 2009

About The Festival

The Raymond James Gasparilla Festival of the Arts celebrates its 39th year on March 7 and 8, 2009. Join us at Franklin Street and Lykes Gaslight Square Park in beautiful downtown Tampa.

With some of the country's most accomplished artists and rising stars vying for the $15,000 Raymond James Best of Show Award and an additional $60,000 in prize money, a showcase featuring the works of local young artists, a weekend full of live entertainment, and a children's art activity area, it's no wonder the festival is widely recognized as one of the top-rated outdoor fine art and fine craft shows in the country.
Events & Entertainment
Live Entertainment

In addition to works of art to view and purchase, the Raymond James Gasparilla Festival of the Arts features performances by local vocalists and bands. The entertainment schedule for Saturday and Sunday will be posted the beginning of 2009. All festival entertainment is sponsored by The Tampa Tribune.

Performers from 2008 included: Key West George, Hypnophoinc, Tom Jemmott, Julie Black-Angel for Blues Band, Sheila Kirsten Hughes, Stacey Knights, Supernatural, Blake School of the Arts Jazz Ensemble, Coastline and Pete Merrigan.
Children's Activities

Coordinated by the Tampa Museum of Art, the Children's Activity Area provides children the opportunity to learn techniques from artists. Kids can also color, paint and draw … and be real artists for a day!
Food

FOTA (Friends of the Arts of the Tampa Museum of Art) sponsors the "FOTA Food Court." Many other specialty vendors are also on site providing food and beverages, with all proceeds benefiting the Festival and the Tampa Museum of Art.
Collector's Showcase

Each year, serious collectors are invited to view award-winning works from the Festival. This year's Collector's Showcase PM will be held Saturday, March 7th, at 7:30 p.m. and the Collector's Showcase AM will be held Sunday, March 8th, from 8:30 to 10 a.m.