March 20 - 22: Hans Feyerabend at the
Winter Park Sidewalk Art Festival - Booth #18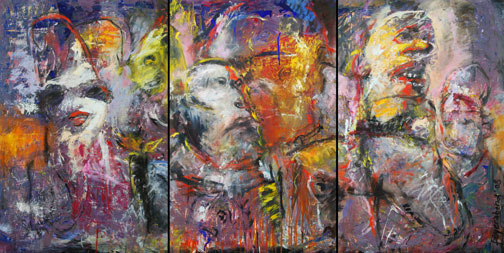 Above: Hunting Party, 2008, 48" x 96", mixed media on canvas
WHERE
The Winter Park Sidewalk Art Festival takes place in Central Park, along Park Avenue, in Winter Park.
Festival Hours - 9am to 6pm on Friday and Saturday and 9am to 5pm on Sunday.

ABOUT THE FESTIVAL
The Winter Park Sidewalk Art Festival is one of the nation's most prestigious outdoor art festivals, consistently rated among the top shows by Sunshine Artist and American Style magazines. Each year more than 350,000 visitors enjoy the show. This year about 1,100 artists from around the world applied for entry and an independent panel of judges selected 225 national and international artists to attend the show. The National Endowment for the Arts, The White House, Congress and many others have lauded the Festival for promoting art and art education in Central Florida. An all volunteer board of directors runs the annual Festival, now celebrating its 48th year.

ART CATEGORIES
There is a wide variety of outstanding artwork. Categories include: Clay, Digital Art, Drawing and Graphics, Fiber, Glass, Jewelry, Leather, Metal, Mixed Media, Painting, Photography, Sculpture, Watercolor and Wood.

AWARDS
Artists compete for 62 awards totaling $67,500. Best of Show is $10,000. The Winter Park Sidewalk Art Festival Committee purchases the Best of Show art and donates it to the City of Winter Park. (All previous Best of Show winners are on permanent display at the Winter Park Public Library.) There are also 10 Awards of Excellence; each is $2,000. There are 20 Awards of Distinction; each is $1,000 and there are 30 Awards of Merit; each is $500. In addition, a $2,500 Award for a Distinguished Work of Art is presented through the Charles Hosmer Morse Museum of American Art.

MUSIC & ENTERTAINMENT
Featured entertainment on the State Farm Stage will include performances by revered musician/songwriter Bobby Caldwell (Friday), big band crooner and local favorite Michael Andrew (Saturday), and smooth jazz-styled soprano saxophonist Marion Meadows (Sunday). Entertainment presented by State Farm, WFTV Channel 9, Orlando Home & Leisure Magazine, and Smooth 103.1 WLOQ. For a detailed entertainment schedule, please click here.


FAMILY FUN
Girls and boys may create their own artwork at the Children's Workshop Village. Easel painting is very popular and local art centers and museums feature a variety of fun, hands-on, art activates for children. Admission is free, and participants may keep what they make. Children's Workshop Village hours are 10 am to 4 pm Friday, Saturday and Sunday. Easel painting is from 10 am to 3 pm Saturday and Sunday.

Parking
General Parking: Free parking is available along many surrounding streets. You can also park in private lots and garages.