Art Live Fair Miami 2012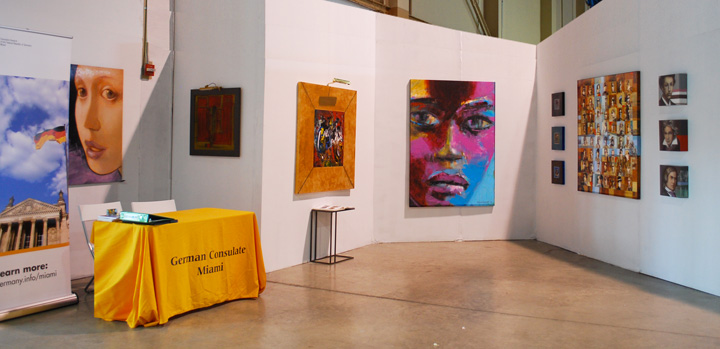 The German Consulate General will be hosting a booth at the Art Live Fair 2012 featuring German Artists Hans Feyerabend and Dieter Peters.

Friday, October 26 8:00pm-11:00pm
Saturday, October 27 11:00am-11:00pm
Sunday, October 28 11:00am-6:00pm

Coconut Grove Convention Center
2700 S. Bayshore Dr. Miami, FL 33133

Art Live is an annual celebration of art and community, demonstrating the profound ways in which art teaches us to touch our creative source, explore our shared humanity, and reminds us we are all interconnected. Proceeds of the Fair will help support programming and operations of the Lotus House Women's Shelter all year long and other charitable initiatives of the Sundari Foundation on behalf of women and children in need. The Art Live is benefiting the Lotus House in Miami
more information also at www.artlivefair.org

Feyerabend's paintings on display:
Girl, 2010, mixed media, 45" x 27"
Portrait, Pink, 2012, mixed media on canvas, 68" x 48"
Tell Me More, 2011, mixed media on wood, 54" x 48"
Richard Strauss, 2011, oil on wood, 12" x 12" x 4"
Ludwig van Beethoven, 2011, oil on wood, 12" x 12" x 4"
Robert Schuhmann, 2011, oil on wood, 12" x 12" x 4"