PORTRAYALS - Hans Feyerabend The Paintings 1999–2005
The Book consist of over 40 full color reproductins of Feyerabends paintings over the past 7 years, click below for a downloadable pdf version (1.3MB).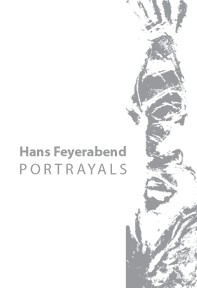 "Portrayals" is available for$20 plus $5 shipping and handling (continental US), to order please contact
Hans Feyerabend at the Atelier, 3863 Shipping Avenue, Miami, FL 331346, Tel. 305 569 9990
Portrayals; Introduction text:
Ancient legends, medieval fairies, timeless beasts, and contemporary office clerks are some of the leading subjects in the works by German painter, Hans Feyerabend. Each painting captures the essence of a specific moment with a host of kaleidoscopic facets.

The portrayals demand abandonment of "seeing as usual". They are their very own reality. A world, in which formal relationships of colors and shapes combine in equilibrium to hold the paintings together and to give them their unique quality. The balance of conceptual forms and depicted subjects lends the paintings their inner tension, and giving rise to powerful compositions.

The paintings start as an open process of overlaying abstract configurations. Through the techniques of addition and subtraction, figurative scenes emerge. The work is further developed by superimposing more recognizable images, creative instinct, and formal laws of visual composition. The traces of the painting's origins are not concealed in the finished piece. Comparable to geological processes of layering and deterioration, the paintings evolve into their one-of-a-kind character.


Gestalten des Altertums, märchenhafte Feen und Untiere sowie zeitge-nössische Bürorunden sind die Hauptakteure in den Werken des Malers Hans Feyerabend. Ohne historisierende oder repräsentative Mittel zeigen sich ganz bestimmte Situationen in ihrer Allgemeingültigkeit - die Essenz des Augenblicks in seinen kaleidoskopischen Facetten.

Imaginäre Bildwelten drängen den Betrachter zum Verlassen der gegenständlichen Wahrnehmung und ziehen ihn in ihre eigene, fremde Wirklichkeit, in der die Beziehungen zwischen Farben und Formen ebenso wichtig werden wie die handelden Subjekte. Dieser Balanceakt ist Ursprung und Motor des Entstehungsvorgangs. Das Spannungsfeld zwischen Formidee und der Kraft der Figuren erweckt die Bilder zum Leben und verleiht ihnen ihre Ursprünglichkeit.

Die Bildwerdung beginnt in einem offenen Prozess vielschichtiger abstrakter Konfigurationen. Langsam entwickeln sich durch Addition und Substraktion erkennbare Szenen. Im weiteren Malprozess überlagern sich Abbildungen, Gestaltideen und formale Prinzipien. Vergleichbar dem geologischen Ablagern und Abtragen, bleibt diese Malweise sichtbar, und verleiht den Bildern deren originalen Charakter.